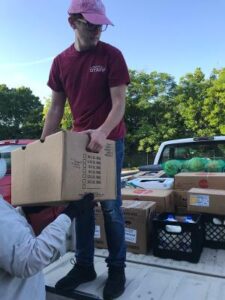 The Southside Church Food Pantry is a cooperative food pantry program partnering with the Central Texas Food Bank; our work is providing food to families experiencing difficult times. We have a large pantry at Southside which is restocked regularly through monies donated by Southside Church members and from food contributions from HEB. The Southside Food Pantry is open Saturday 9-11:00 am and Tuesday 9-11:00 am. The
Pantry recently purchased am 18 foot box truck through a grant; this equipment significantly expands the number of families we are able to serve and the quantify of food items we are able to distribute.
If members would like to volunteer with the pantry, please contact Barbara Fitzgerald or Gail Hughling. If you would like to know more about the volunteer opportunities available through this ministry, contact one of the ladies named above or complete the
contact form
available on this website.
Due to the Covid-19 response, application restrictions have been significantly eased and a drive-thru distribution has been established for the safety of patrons and volunteers.